Press Release:
A Trio of Winners for ICT in Education Awards
Published on: 2018-08-24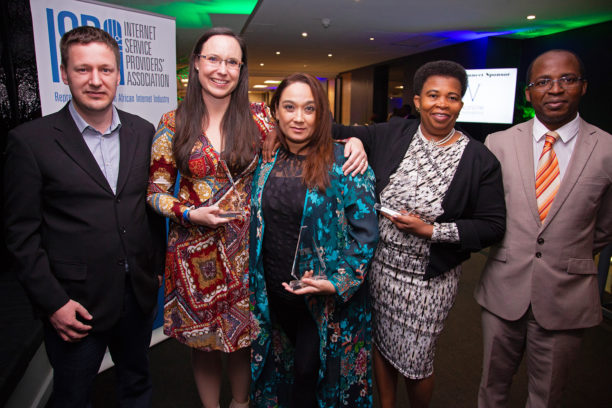 South Africa's Internet Service Providers' Association (ISPA) has named Matema Jacobeth Malatji of Diopong Primary School as ISPA SuperTeacher of the Year 2018 following a gala dinner held last night as a centrepoint of the annual iWeek Internet industry conference and exhibition.
ISPA is the longtime sponsor of SA's longest-running national ICT in education awards and the founder and co-host of iWeek which is taking place this week at Cape Town's Westin Hotel.
ISPA and the Digital Education Institute (DEI) also announced last night that Leanne Bishop of Grantleigh College category was selected as ISPA Tech Teacher for 2018 while ISPA Mobile Tech Teacher for 2018 is Khatija Osman from Durban Girls' College. The latter's achievement is particularly impressive as she is a teaching intern at Durban Girls'.
According to Project Manager, Milford Malunga of DEI, "On behalf of the sponsors, we congratulate our winners and especially commend the outstanding quality and originality of their projects. The future bodes well for South Africa's learners if our country can continue to produce educators of the calibre of Matema, Leanne and Khatija."
DEI, a non-profit educational body, is ISPA's partner in the SuperTeacher competition and manages the Association's teacher IT skills training programme that originally gave rise to the ISPA SuperTeacher of the Year Awards.
The 2018 ISPA SuperTeacher of the Year competition gave educators an opportunity to showcase their skills in using Information Communication Technologies (ICTs) to improve the educational environment in their classrooms, schools or communities.
The names of the ten finalists who competed for the three titles bestowed last night are: Leanne Bishop of Grantleigh College, Mabore Lekalakala of Mapudithomo Primary School, Matthew Hains of Saheti School, Fiona Beal of The Rock Academy, Matema Jacobeth Malatji of Diopong Primary School, Peggy Jona of Bakuba Primary School, Dimakatso Sefora of Saron Primary School, Khatija Osman of Durban Girls' College, Nombuso Precious Thobela of Vulamasango Primary School, and Cyril Nkosana Nkabinde of Zonkizizwe Secondary School.
Several teachers are top achievers in previous ISPA SuperTeacher of the Year competitions. After participating in educator ICT training managed by DEI and sponsored by ISPA and its members, the finalists' closing projects were judged to be the best amongst the many received that demonstrated the value of the teachers' enhanced ICT skills.
ISPA's Train the Teacher project has equipped over 5 000 teachers with ICT skills thanks to continued support from ISPA's members. South Africa's longest-running ICT in education competition is sponsored by ISPA, a non-profit Internet industry representative body.
More information about the awards, and the three award winners, can be found at www.ispasuperteachers.co.za.
Further Information
For further information, please contact the ISPA secretariat on the Contact ISPA page.