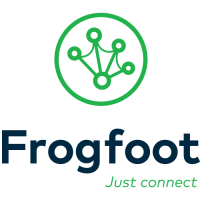 Frogfoot Networks
Frogfoot is a licensed open access fibre network provider. With 15 years experience in the telecoms industry and widely acknowledged for our technical excellence, Frogfoot intends to play a pivotal role in the growth of fibre to the business and home in South Africa.

Frogfoot Networks is a Medium member of ISPA
and has been a member since 2006-02-13
Member details
Website:
https://www.frogfoot.co.za
Support email:
support@frogfoot.com
Support phone:
+27 21 448 7225
Licences:
0050/IECNS/JAN/2009
0050/IECS/JAN/2009
Compliance information
Registered name:
Frogfoot Networks Pty Ltd
Physical address:
Suite 303 Building 20
The Waverley Business Park
27 Kotzee Road
Observatory
7925
Abuse email:
abuse@frogfoot.com
Compliance statements
Frogfoot Networks is a proud member of ISPA and upholds the ISPA Code of Conduct for all products and services offered in South Africa.
Frogfoot Networks has nominated ISPA as its agent for the purpose of receiving take-down notifications in terms of Section 75 of the Electronic Communications and Transactions Act.
Frogfoot Networks provides information on online safety for children.
Frogfoot Networks has indicated that it registers Internet domain names in the name of its clients.
Services offered
Wholesale services
Open access fibre network
Virtual ISP