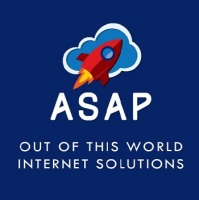 ASAP Internet
At ASAP Internet we are a customer orientated business and strive to go above and beyond the call of duty to ensure your satisfaction. Our vision of ensuring that NO community is left disconnected drives us to help everyone in SA get connected and we believe that this should not be rocket science!

ASAP Internet is a Small member of ISPA
and has been a member since 2006-10-23
Member details
Website:
www.asap.co.za
Support email:
connect@asap.net.za
Support phone:
087 550 1891
Alternative phone:
031 100 1030
Fax:
086 663 3247
Licences:
0199/IECS/09
0199/IECNS/09
Compliance information
Registered name:
ASAP Internet (Pty) Ltd
Physical address:
6 Pine Lane
Bothas Hill
3610
KZN
Abuse email:
abuse@asap.co.za
Compliance statements
ASAP Internet is a proud member of ISPA and upholds the ISPA Code of Conduct for all products and services offered in South Africa.
ASAP Internet has nominated ISPA as its agent for the purpose of receiving take-down notifications in terms of Section 75 of the Electronic Communications and Transactions Act.
ASAP Internet provides information on online safety for children.
ASAP Internet has indicated that it registers Internet domain names in the name of its clients.
Services offered
Wholesale services
Virtual ISP
Internet access services
Digital subscriber line
Fixed line (copper)
Fibre-to-the-business (FTTB)
Fibre-to-the-home (FTTH)
Microwave
WiFi access points
Hosting/cloud services
Email hosting
Website hosting (site hosted on ISP's servers)
Server hosting (client's hardware hosted on ISP's network)
Managed server hosting (client uses an ISP managed server)
Virtual private server hosting (client uses a virtual server)
Security services
Firewalls
General security consulting
Hardware
Routers and switches
VoIP handsets
Wifi equipment
Other services
Domain name services
Voice (or VoIP) services
Virtual private network services
Network management services
Internet skills training