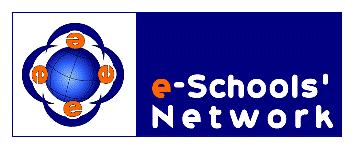 e-Schools' Network
e-School's Network NPC is a non-profit organisation that provides the schools and Further Education and Training (FET) Colleges community in South Africa the following services: Connectivity and communication solutions; Call centre support tailored to the unique needs of the school and FET College environment; Consultancy and training support service in the area of educational technology, with a particular focus on providing and sustaining connectivity and online communication services in schools; and Project development and management on behalf of a wide range of clients. Being on the cutting edge of technology while simultaneously grounded in the challenges of delivering solutions to historically disadvantaged educational institutions, we consider ourselves a leading authority in connectivity and communication delivery in education.

e-Schools' Network is a Small member of ISPA
and has been a member since 2003-08-06
Member details
Website:
www.esn.org.za
Support email:
info@esn.org.za
Support phone:
021 683 8719
Alternative phone:
021 674 9140
Fax:
021 683 6766
Compliance information
Registered name:
e-Schools' Network NPC
Physical address:
Unit E12
Clareview Business Park
236 Imam Haron Rd
Claremont
7708
Abuse email:
abuse@esn.org.za
Compliance statements
e-Schools' Network is a proud member of ISPA and upholds the ISPA Code of Conduct for all products and services offered in South Africa.
e-Schools' Network has nominated ISPA as its agent for the purpose of receiving take-down notifications in terms of Section 75 of the Electronic Communications and Transactions Act.
e-Schools' Network provides information on online safety for children.
e-Schools' Network has indicated that it registers Internet domain names in the name of its clients.
Services offered
Wholesale services
Virtual ISP
Internet access services
Digital subscriber line
Fixed line (copper)
WiFi access points
Hosting/cloud services
Website hosting (site hosted on ISP's servers)
Server hosting (client's hardware hosted on ISP's network)
Security services
Firewalls
Other services
Domain name services
Voice (or VoIP) services